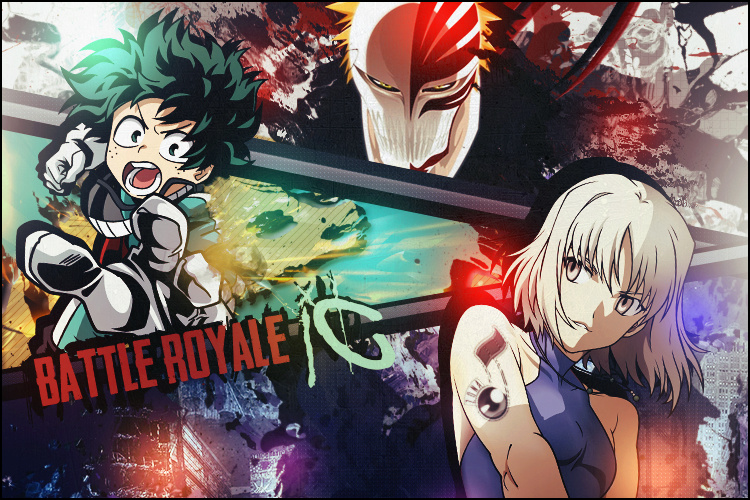 Multi Rave IC: Battle Royale Edition
Resultados Finales/Final Results
BEST OVERALL
1-Darkio Hyoton - Be Zombie
2-MEP Indigo Team - Apognosis II
3-Strohhut TV - Last one standing
4-Arrow - Sunday Morning
5-Danparthenis & EKG - Summer tapes
6-Sultan - Changelling
7-Kaien - In my heart forever
8-FT - Last Smile
9-Z0rek - Delicate Flower
10-Meary - Slight Hope
11-MissTitannia - Dear Darkness
12-MEP - Blood to Victory 2
13-Artemiz - Red eyes hell
14-Kaishot - Hell City
15-Ryosque - The end
16-CacoVenom - Until I die
17-Twinkle02 - Only mine
18-Danny AMV - The last witch

---
1-Darkio Hyoton -  Be Zombie
2-Strohhut TV - Last one standing 
3-Arrow - Sunday Morning
4-Sultan - Changelling
5-Kaien - In my heart forever
7-Z0rek - Delicate Flower
9-MissTitannia - Dear Darkness
10-Artemiz - Red eyes hell
13-CacoVenom - Until I die
14-Twinkle02 - Only mine
15-Danny AMV - The last witch
---
1-MEP Indigo Team - Apognosis II
2-Danparthenis & EKG - Summer tapes
3-MEP - Blood to Victory 2
---
The winner of the Netflix for 1 year is...
@kuruta
The best of the contest without doubts for me. The creativity in this amv is far superior to the rest. The selection of music with anime is ideal. There are very good compositions. The only thing that takes away points is the use of predetermined transitions that ruin the aesthetics and some abrupt changes of scenes. I would have liked the source to be in better quality too. I can watch this video many times without getting bored and that is something that is hard to find.
Español:

Lo mejor del concurso sin dudas para mi. La creatividad en este amv es muy superior al resto. La selección de música con anime es ideal. Hay muy buenas composiciones. Lo único que quita puntos es el uso de transiciones predeterminadas que arruinan la estética y algunos cambios bruscos de escenas. Me hubiera gustado que la fuente fuera de mejor calidad también. Puedo ver este video muchas veces sin aburrirme y eso es algo que es difícil de encontrar.
@xDieguitoAMV
 Very creative video, anime+song combo is outstanding and the sense of humor was present in the whole video. On the other hand there are some weird transitions and efects specially at the beginning of the amv that should be reviewed. Congratulations for the first place!
Español:

Video muy creativo, el combo de anime + canción es excepcional y el sentido del humor estuvo presente en todo el video. Por otro lado, hay algunas transiciones y efectos extraños especialmente al principio del amv que deben revisarse. Felicitaciones por el primer lugar!
@Magikarp
 An original video with a clear and fun concept. I didnt expect to see something like that with that song and it surprised me. Some technical details to improve but still gets a deserved first place. Congratulations!
Español:

Un video original con un concepto claro y divertido. No esperaba ver algo asi con esa cancion y me sorprendio. Algunos detalles tecnicos a mejorar pero aun asi obtiene un merecido primer lugar. Felicitaciones!
---
@kuruta The dark atmosphere of this video I got into it. The way to synchronize may not be the most original but it is very successful in my opinion, use the sounds with the selection of appropriate scenes that cause more impact and suspense throughout the development and generate an ideal environment.
Traduccion:

El ambiente oscuro de este video me metí en él. La forma de sincronizar puede no ser la más original, pero en mi opinión es muy exitosa, use los sonidos con la selección de escenas apropiadas que causen más impacto y suspenso a lo largo del desarrollo y generen un ambiente ideal.
My Favourite is
Sultan - Changelling:
@xDieguitoAMV Is my personal favourite video of the ic, is simple but i found it very well put together and atractive to watch..is the kind of video that i can rewatch and enjoy everytime. 
Traduccion:

Es mi video favorito personal del ic, es simple pero lo encontré muy bien organizado y atractivo para ver ... es el tipo de video que puedo ver y disfrutar cada vez.
My favourite is
Kaien - In my heart forever:
@Magikarp Well..I like the atmosphere in this video. The history is interesting. I like the song in that anime. Somethings datails to improve but the final result is enjoyable.
Traduccion:

Bueno ... me gusta el ambiente en este video. La historia es interesante. Me gusta la canción en ese anime. Algunas cosas mejoran pero el resultado final es agradable.
My favuorite is
FT - Last Smile:
---
Well is all. Really I liked can be organizated other edition of Multi Rave IC. I hope you was got a funny moments in this IC. Good bye to everyone and I hope seen you again in the next editon.
Bueno, es todo. Realmente me a gustado poder organizar otra edición de Multi Rave IC. 
Agradezco personalmente a todos aquellos que participaron y aquellos que compartieron el evento desde el primer momento, me alegra saber que hay gente apoyando este evento de ZA.
Espero que hayan tenido momentos divertidos en este IC. Adiós a todos y espero volver a verlos en la próxima edición.
---